Resistance Welding training and expertise (spot RSW, projection RPW, seamwheel RSW, butt to butt RBW)Processes 21, 22, 23 & 25.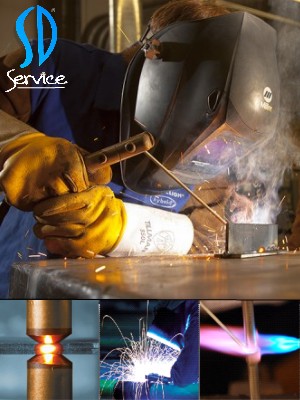 Welding and Micro-welding 50-60Hz, Medium frequency 1000Hz 2000Hz 20kHz, Resistance soldering and brazing.
ARO (2X16III, iBox, AR01...), Soudelec, Soudax (CMS...), Sciacky (Sy-Sol tri...), Serra (Serratron),Miyachi (HF25, HF27, MEA...), WTC, Resistronic, Matuschek, Harms+Wende, Bosch (BOS6000), IsoMatic B12 / PG2W, Ali'X... timers and welding machines (gun, stationary machines...)

On all types of material grades :
Aluminum and light alloys, Stainless, Mild Steel, Copper, Brass, Titanium, Nickel, Zinc or Galvanized, CRES 321... Welding of hot stamping steels : analysis, applications and weldability.


Training program according to your needs :
Basic principle : Joule's law
The influence of the different parameters (Force & pressure, intensity, welding time, squeeze time, upslope, preheat, postheat...)
Resistances : analysis

Welding cycle composition :
- Squeeze & first squeeze, welding, hold, Upslope, Downslope, Pulse, welding pressure...
- Post heating: Thermal treatments (annealing, tempering, quenching)

The welded spot : Fault analysis, cause / remedy
Methodology and quality improvement
The visual spot ((aspect) welding: principle, analysis and optimization of the parameters

Materials grades and coatings
- Mild steels, galvanized, zinc coated, aluminized, magnesium et aluminium (MagiZinc)
- Stainless steel, Titanium, Uranus, Nickel and its alloys...
- Light alloys, (Aluminium)
- Copper, brass...

The electrodes : alloys and Sintered metals
- CuCrZr, CuCoBe, CuAg, CuTe, Wolfram, Molybdenum, CuproTungsten and CuproMolybdenum...
- LongLife
- Optimizing the lifespan of electrodes
- Choice of suppliers: the players on the market

Mastery of the welding machine
- Operating principles, adjustments
- The welding timer : analysis and programming
- Specific Module in maintenance (Disassembly, analysis of components and wear parts, etc.)

Hygiene and safety rules
- The magnetism, recommendation...

Weldability areas
- Basic principle, interpretation, choice of parameters
New technology : Analysis, advantages and disadvantages
Medium fréquency, 1000 Hz - 2000 Hz - 20000 Hz
Welding / control system (self-adapting welding SAW, PQS, ...)

Tools (welding jigs): rules and specifications
- Design principle
- The dimensioning of the secondary circuit (shunts, shanks, conductors, ...)
- The choice of the machine: definition of the need, analysis
- Choice of suppliers: the players on the market

Weld spot not visible (aspect)
- Principle & methodology
- Practical tests (client or laboratory site)

Welders Qualification and preparation to standards (normalization)
BAC5977, AWSD17.2, AIPS01-04-004, ISO14554, ISO 14732, NF182, CSAW47.1, NFL06-383, EN1418, certification NADCAP, Aeronautics (AIRBUS, BOEING)... 
Your contact : David BOUCHENY at +336 82 53 70 76 eMail : info@sdservice.fr